Metropolitan representations

This article about the political reality behind murals in Los Angeles was published in 2001 in the architectural magazine Archis. It presents excerpts from a report I wrote during a working period in Los Angeles. How can public art which represents common believes be critical towards ruling ideologies, be of importance to constructing collective identity without compromising to governemental or institutional norms, in what way do prominently outspoken political viewpoints, accesibility, legibility and popular and traditional iconography relate to each other? And in what way do these works represent the people who live amongst them, day in day out?
The text is a bit rusty and dated, but I thought it would be good to include it in this blog, because some of the issues which are touched upon could be revived in thinking about ways of working on public project in Brussels. In stead of relating these questions only to wallpaintings as in this article, it would be interesting to think about the possibility of transposing them to virtual forms of public representations, and try to figure out if the power and straightforwardness of the positioning of political works in urban neighbourhoods could be carried futher in virtual circumstances.
Metropolitan representations;
a political contextualisation of Chicano and Black murals in Los Angeles
KCAL 9, a news station in Los Angeles, offers 24-hours-a-day reality TV: in-your-face live coverage of police chases, fires, hold-ups and drive-by shootings. The daily news is fragmented, explosive and of the moment. The station presents a picture of a city full of the most spectacular up-to-the-minute events. However, this sensationalist image of life in LA contrasts strongly with the social reality of many of its neighbourhoods.
( … )
Murals reflect subjects that are often not mediagenic, but which are inextricably linked to specific local situations and the ethnic and cultural backgrounds of the city's inhabitants. This public art, which is rooted in the community, or 'Community Based Arts', offers residents the opportunity to develop a form of self-reflection which is founded on a coherent image of reality; a visual footing from which to contextualize and interpret everyday events. (1)
( … )
In her book Publieke Kunst, Ina Boiten makes schematic a presentation of the paths of communication that are possible between artist and public. (2) She lists the following: Communication – the artist communicates a message to the public through the art work; Participation – the public and the artist participate in the creation of an art work; Mobilisation – the artist mobilises the public, which then plays an active part in the (social) process that has been set in motion by the artist. Community based arts utilise all these paths.
( … )
The largest organisation in the field of mural painting in LA is the Social and Public Arts Resource Center (SPARC). Many of the murals found in Latin-American neighbourhoods, such as City Terrace, East LA and Boyle Heights, and Black neighbourhoods, such as Watts and South Central, have been supported by SPARC's Neighbourhood Pride programme. The centre employs a range of methods to stimulate context-specific, imaginative work: they commission work from local artists, set up collaborative networks between residents and artists, and organise workshops in which gang members and young graffiti artists become involved in the conception and execution of murals. (3)
( … )
On the corner of 6th Street and Westlake Avenue in Mid City LA, there are two large portraits of Emiliano Zapata and the Zapatistas' sub-commander 'insurgente' Marcos. On 1 January 1994, the day the North America Free Trade Agreement took effect, the Zapatista National Liberation Army (EZLN) occupied four villages in the Chiapas region of south-east Mexico. This date was chosen in order to make a clear statement against the NAFTA treaty, which, in the eyes of the EFLN, sounded the death knell for the Mexican-Indian peasant population. At www.zapatistas.org their spokesman, Marcos, announced that: �Contemporary globalism and neo-liberalism as a global system should be interpreted as a new form of war, which is aimed at conquering territory.� (4)
( … )
The Latino population of LA identifies strongly with the freedom struggle of the Zapatistas, but the Mexican Consulate, near Westlake and 6th, as official representatives of the Mexican government, would not have been happy about the presence of these heroic portraits. A controversy has broken out around the painting; Revolution Evolution, from which it is apparent that the popular and official ideas of reality do not correspond. The painting was made with the approval of the local population, which from a moral point of view legitimise it. That 'approval', incidentally, is tacit rather than written, and is apparent from the fact that, unlike neighbouring murals, it hasn't been defaced, tagged or overpainted with another image.
( … )
Robin Dunitz, a publicist who is involved with the Mural Conservancy, told me that the portrait was painted by Hector Ponce, a sign painter who tries to include political elements in his work wherever he can. (5) �Ponce painted a portrait on a restaurant wall of Marcos wearing a ski mask. It was removed. Later he painted a new portrait in which Marcos, slightly smaller, is pictured on horseback, so that the authorities would be less quickly offended.� The second portrait was based on a publicity portrait of Marcos, an image that has appeared on countless occasions in the press, which makes it more familiar and, hence, less threatening.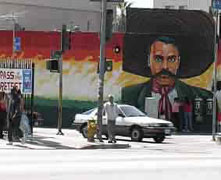 Hector Ponce: Revolution Evolution
The City of Los Angeles Cultural Affairs Department also threatened to have this second version removed, because the owner was said to have complained. No official permission is needed to paint a mural, but the owner of the wall has to agree to it. Dunitz: �the restaurateur had no objections to the painting, but he rented the building from someone else. The owner of the building didn�t want any controversy and refused to give his written permission.� The complaint received by the department turned out not to have come from the owner, but from a shopkeeper in the area, and with this the legitimacy of immediate removal vanished. Recently, the Department of Building and Safety declared this mural to be an 'illegal sign'. A special permit must be obtained before painted symbols and street signage can be put up, a permit which Ponce, of course, did not have. The Federal Visual Artist's Rights Act (VARA) decrees that an artist must be informed of the decision ninety days before a mural is removed. But now that this wall painting has been declared an illegal sign, this period no longer applies. Ponce's mural is slated for immediate removal. In its dual role as the author of a poorly defined distinction between public art and illegal signs, and as the party which carries out their removal, the Department of Building and Safety has come to function as a censor of public images. (7)
( … )
Because of their monumental and public character, murals are a common means of propagating state ideology. Between 1933 and 1943 the Federal Government of the United States commissioned murals for the interiors and exteriors of public buildings in LA as part of the New Deal programme. This resulted in works, which often portrayed the history of California from an Anglo-American perspective. The most important impulse for contemporary mural painting, however, has come from neighbouring Mexico. Following the Mexican revolution, artists like Diego Rivera and Siqueiros were commissioned to depict a populist and progressive, nationalist version of Mexican history on government buildings. Cities like San Francisco, Chicago and Los Angeles, which have a high percentage of Latin-American immigrants, have all borne witness to the phenomenon of mural painting; Mexican history, as part of the Latino population's cultural baggage, is well represented in contemporary mural painting in Los Angeles.
( … )
Influenced by the Civil Rights Movement, at the end of the 1960s many American artists embraced the painting of public walls as a means of broadcasting the call for social change. Even though many of the estimated 1500 murals in Los Angeles have been commissioned by small businesses, public institutions or religious organisations, the quasi-legal strategy of appropriation that has developed since the 1960s is now inseparable from the practice of mural painting. (8) In August 1991, officers from the Los Angeles Police Department beat up Rodney King. Amateur video images of this event were broadcast on news bulletins around the world. In April 1992, in Simi Valley just outside LA, a white jury acquitted the four officers who had been charged with the attack. Huge riots immediately broke out in large parts of LA: an explosion of the pent-up rage and frustration of the black community in response to the persistent atrocities and injustices committed by the LA police. The riots formed the motive for Noni Olabissi's mural; Freedom Won't Wait, at 54th Street and Western Avenue in South LA. (9)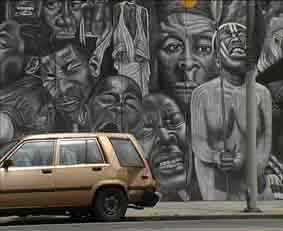 Noni Olabisi, Freedom Won't Wait
Another mural by Olabissi, To Protect and Serve, pays tribute to the Black Panther Party and its contribution to African – American history. The Black Panther Party organised a national development programme for the black community, which provided free food, medical support and clothes for the poor. The mural forms a counterpoint to officialdom's view of the party, which primarily associates it with armed rebellion, and presents an image which local residents and passers-by can identify with. Mr. Bert, who works at Johnson's Barber Shop in the building on which To Protect and Survive is painted, said: �People come here and seeing the mural gives them the emotional uplift that they need in order to survive in today's society … When I see it, I see pride, and I see the struggle that we went through, and where we are now, today … You see the gangster with the gun?� He points to the picture of H. Rap Brown, who has his gun pointed at two Ku Klux Klanners: �You never see a man with a gun like that no more, not in my time I haven't. My ancestors did that for me. I've got to go through the struggle now for my kids, so they can have a better way out.� (10)
( … )
Los Angeles is built up from a large number of neighbourhoods and districts, which have little in common with one other. The freeways and large link roads join distant areas together while separating neighbouring districts. LA, therefore, cannot really be said to have a clear identity. Its urban geography is constantly mapped according to different criteria and visions. There is no single organ that determines the borders between the neighbourhoods. In 1985, the Department for City Planning pointed to fifty-three centres; the Department for Transportation, at the request of inhabitants, placed 433 signs to mark out the neighbourhoods; and the well-used Thomas Brothers street map listed seventy 'communities'. (11) The National Commission on Neighbourhoods declared that 'according to the latest analysis, each neighbourhood is what the inhabitants think it is.' (12)
( … )
The term 'neighbourhood' therefore has to be defined subjectively and in the event of a lack of clear boundaries, signs and images in the form of murals play an important role. Where dotted lines on paper at times dissect social centres, which have arisen spontaneously, the site-specific nature of murals enables them to express solidarity and local identity. The power of the imagination plays a crucial part in the formation of a community; the built environment and the social relations within a city are also determined by how the inhabitants themselves see it. Murals like Revolution Evolution and To Protect and Serve do not represent existing reality, but portray a changing attitude to that reality; like a visual force for commitment and political action. For certain groups of the population, which are underrepresented at an official level, the painting of visions of the future and alternative histories is a way to claim a space and to make it their own.
Peter Westenberg
Notes
1. For a historical overview of the community mural in the US, see: Cockroft, Weber and Cockroft, Toward a People�s Art, University of New Mexico Press, Albuquerque 1998.
2. Ina Boiten, Publieke Kunst, NAi Publishers, Rotterdam 2001.
3, 7 For information on SPARC: http://www.sparcmurals.org The current state of affairs surrounding Revolution Evolution is discussed at: http://www.sparcmurals.org/newsarch/Zapata/
4. Commandante Marcos, The Seven Loose Pieces of the Global Jigsaw Puzzle, http://zapatistas.org/neo/
5. The Mural Conservancy is an organisation that advises on the conservation of murals. It also organises guided tours of LA�s murals. See: http://www.lamurals.org/
6. From a conversation with Robin Dunitz, Ramona Gardens, East Los Angeles, 6 April 2001.
8. http://www.muralart.com
9. Prigoff and Dunitz, Walls of Heritage / Walls of Pride, African American Murals, Pomegranate, San Francisco 2001.
10. From a conversation with Mr Bert, South Los Angeles, 27 March 2001.
11. Anthony Downs, Neighbourhoods and Urban Development, Brooklyn Institute, Washington D.C. 1981.
12. Sojin Kim, Chicano Graffiti and Murals, the Neighbourhood Art of Peter Quezada, Mississippi University Press 1995.