Echo > MIVB/STIB


Demo description
Walk the line: 6 7 8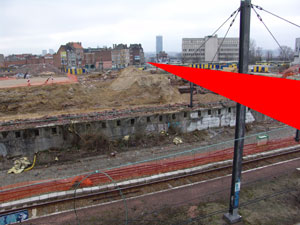 The above image shows the Molenbeek frontier moving from Rue Birminham (back) towards the Verheydenstraat (front) Right of the borderline: Anderlecht, Left: Molenbeek.
The terrain neighbouring the 'Echo' office building (visible just above the red line, see previous post) is in use by the public transport company STIB/MIVB as a transit- and parkingplace. Entrance is forbidden and restricted to STIB/MIVB vehicles, everybody else is requested to ask permission. After you have visited the MIVB/STIB website it should no longer come as a surprise that they love paperwork and written requests. Before even having reached their homepage visitors are warned that hyperlinking is not allowed unless specific permission is granted to applicants who have filled out a requestform.
On the terrain just behind the parkingplace, all kinds of building activities are taking place, resulting in a gigantic building pit. Several constructors are simultaneously at work here: on Rue Nic. Doyen, Building company De Meyer warns us that it is necessary to obtain a permit before we can enter the terrain with a private vehicle. On the same fence, around the corner on the Ninoofse steenweg, the signs which are put up by constructor De Meuter make clear that entrance to the site is forbidden.