Balearic walk 1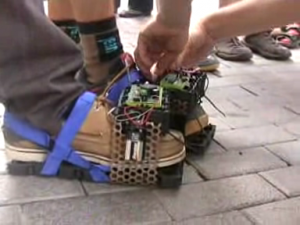 Balearic Routes + Routines proposed a group action in the center of Palma on 18 october 2008. Departing from the hectic Plaça Major, we walked with 10 people through the shopping center, scanning electro magnetic fields, sniffing video surveillance and wifi TV, amplifying distorted sounds from the souls of our feet, filming with camera equiped shoe's, and more nifty out of the ordinary ways of capturing data produced by walking.
Here's a video capturing some of the highlights of the day. (Ogg/theora, 20 mb)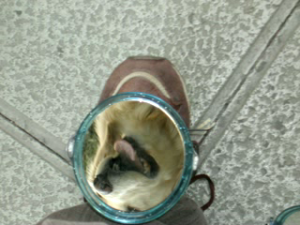 Here's another one, with snapshots taken from the rotating mirrors shoe.
(Avi, 700k)
(Video doesn't play in browser? Install VLC, right-click, save file, open in VLC)
Balearic Routes + Routines takes place in the framwork of the Majorcan media festival PING!, taking place in cultural center Sa Taronja in Andratx.